Anne and Peter.

Peter; born 1939. Hospital Doctor (anaesthesia), now retired since 2004. Became an anaesthetist essentially "by accident"; was working when newly qualified in Ethiopia, and the hospital suddenly ran out of anaesthetists, so he had to learn quickly, and discovered he enjoyed it. Did train properly thereafter, though!

Main interest outside work is "classical" music, but also enjoys theatre and getting out into the countryside. Retired in July, 2004, and has got thoroughly used to having free time at last! Thought he might get a small part-time voluntary job sometime, but hasn't (yet) had time, apart from being membership secretary of the local branch of the Multiple Sclerosis Society. He was recently press-ganged into being Branch Secretary, as nobody else was going to do this job. Now has also got the job of being the joint maintainer of the website of this Branch. Since Anne's sad death, has joined a lot of local organisations, including the Cheltenham U3A and the local National Trust Centre, and so keeps very busy.

More recently, he has been doing a lot of things with a retired and widowed colleague, and she's excellent company, and seems to put up with my oddities. Her company does me a lot of good, and I'm sure Anne would approve. One thing that Peter and she do together a lot, either individually or in a group, is walking in the countryside. Peter is now probably fitter than he's been for many years.

Two things Peter never thought he would be doing: the first is that he's been leading walks with the local U3A and the Cheltenham and Gloucestershire National Trust Centre walking groups, and has found this to be very confidence-building. He is now even the convenor for the National Trust Centre's walking group. He now also manages the website of the Centre.

Even more unlikely, he is now a member of a group called " The Silver Sambistas", an over-fifty Samba Drumming Group, which is excellent fun!

Having now achieved well over his Biblical "threescore years and ten," he still hasn't grown up!

In November, 2015, Peter fulfilled a long-standing ambition, and went back to Ethiopia for a two week holiday, with his daughter Sarah, who was born there, and his brother and sister-in-law from Canada. A real holiday of a lifetime!

Anne; born 1946. Registered Nurse, but had not worked in nursing for years as she was diagnosed with Multiple Sclerosis in 1981. She had been fully in a wheelchair since about 1984, and became pretty severely disabled. She worked one morning a week as a volunteer classroom helper in a Primary School. Same interests as Peter, but was perhaps even more of a fresh-air fiend. We had a lot of fun getting into all sorts of unlikely places with the wheelchair, and also worked with local authorities and the National Trust in helping to make places wheelchair accessible. More about this on the next page.

Sadly, Anne died peacefully in Hospital, with excellent care, on 10 October, 2010. Her breathing muscles had just run out of puff. She knew that she was dying, and was very serene about this. About two months previously she said to one of her friends, "I'm tired of MS." It's sad, but she was ready to die.

Links to Peter's Picasa photo albums are here.


Here we are on a visit to the Lake District in 1997, on our 25th wedding anniversary, at Sandscale Haws, Cumbria, on a National Trust visit. The inscription on Anne's sweat-shirt says "Disabled do it in wheelchairs", which has attracted a few comments over the years!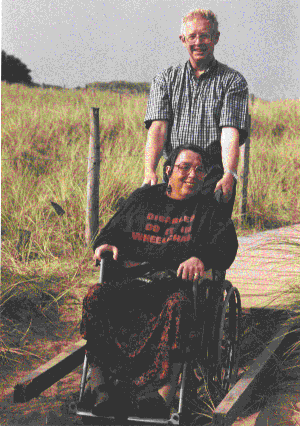 © Valerie Wenham, 1997
And rather more formally, here we are at a function at the School where Anne did her voluntary work.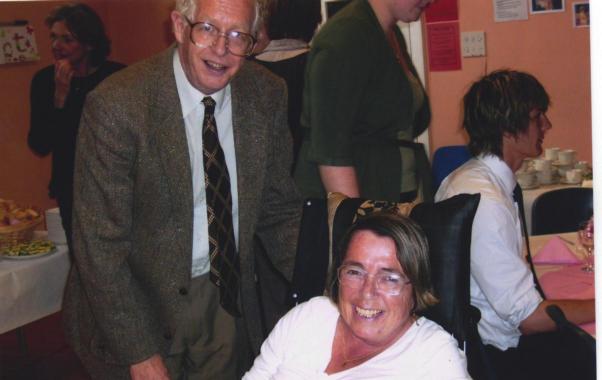 And here is the girl that I married. Photo taken in our flat in London in 1973. I remember the dress, but not the occasion.