Out and about with a wheelchair.
We did a lot of getting outside, and found that there are a lot of surprising places wheelchairs can get to.
Here is a list of some of the places where we went with Anne's wheelchair:
We know a lot about North and West Gloucestershire.
We know quite a lot about Pembrokeshire.
We know a more than a bit about the Lake District.
We know a bit about West and South Cornwall.
We know a little about the Western Highlands of Scotland, and Skye. We have stayed in or near Gairloch, Waternish on Skye, Gruinard and Strontian.
We know quite a bit about the North York Moors.
We went regularly to theatres and concerts in Cheltenham, Stratford, Malvern and Bath, and Peter and his friend-who-is-a-lady still do this
We have been twice on the Norwegian Coastal Voyage, a.k.a (in Norwegian) Hurtigruten.
Also, we know about wheelchair-friendly self-catering cottages in many of the above places.
Please get in touch with us for any information we can give you about these places.
In the meanwhile, here are some more photos of Anne in unlikely places!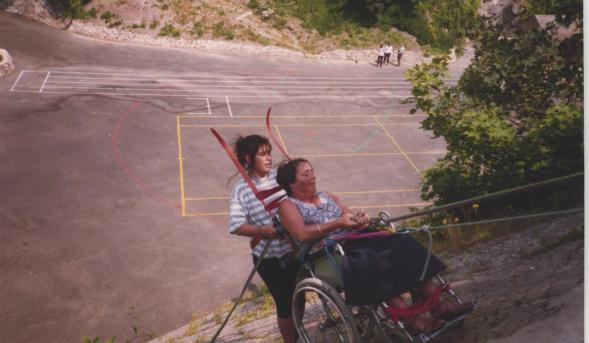 Stackpole Centre, Pembrokeshire, West Wales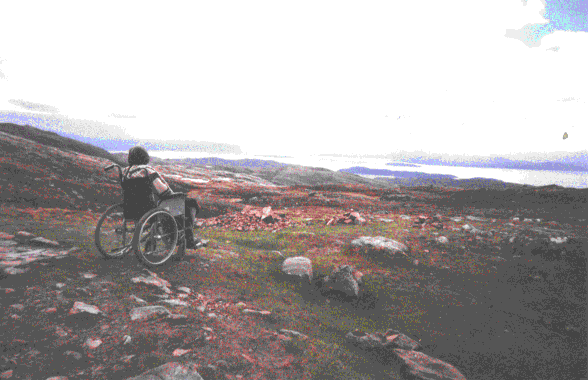 Bealach na Ba, near Applecross, Western Highlands of Scotland.
(sorry about the weather!)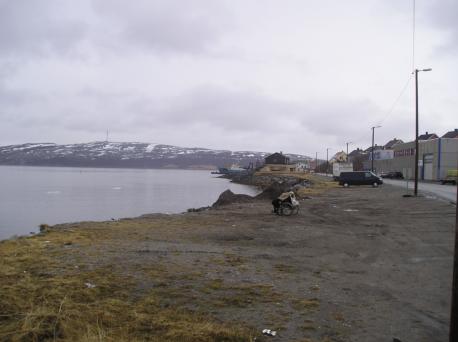 Kirkenes Harbour, far North-East Norway, May, 2005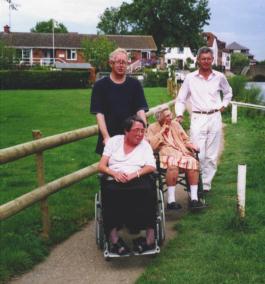 © Elisabeth Young. 2002
Formation wheelchairs!
Anne, Peter, Peter's brother Tom and their Mother, Ruth (both now sadly dead) by the Avon at Tewkesbury.
Page last updated on Wednesday, 29 July 2015