James Young.
Born 1980; did a business and finance course at the local Higher Education College from 1999 to 2001. He got his Diploma, and, after working in a local catalogue store to get enough money to go to visit family (and watch cricket!) in Australia, he worked for a bit over three years on the administrative side of the local newspaper. He then made a breakthrough into the journalistic side of the paper, and in September, 2007 started working as a trainee journalist on the Sports Desk. Apart from the shorthand test, he has now qualified as a journalist, and gets his by-line in the two local newspapers.
While waiting to start his business course, he and three friends wrote and edited the Cheltenham Town Football Club fanzine, called "They Scored Again". This has now gone out of production, because of the requirements of real work! Instead, he is a committee member of the Cheltenham Town Independent Supporters' Trust. He also sometimes gives the commentaries on Cheltenham Town matches on either Radio Gloucestershire or on the CTFC website. He also used to write a regular "Terrace Talk" column in The Gloucestershire Echo, but had to give this up now he has become a "proper" journalist.
Email James if you are interested in the Supporters' Trust. He has also has worked part-time as a volunteer at Cheltenham Town's Whaddon Road ground.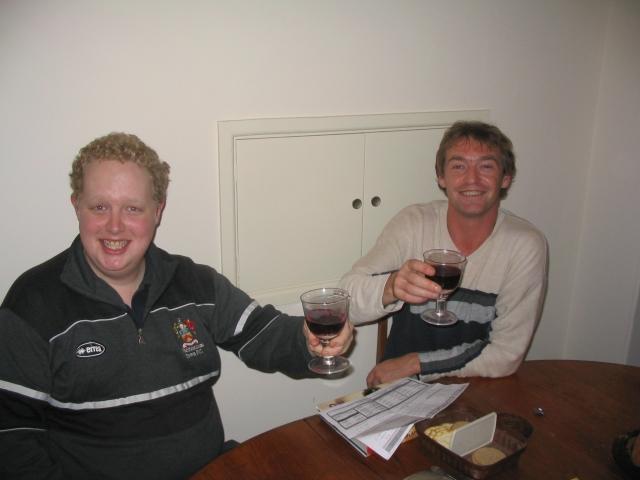 James and Ben, Winter 2005
Football pages have been deleted, as they are very out-of-date by now!
Page last updated on Friday, 12 April 2013